Setting industry standards with superior vacuum and filtration design
Vacall AllVac industrial vacuum machines deliver more years of higher performance, setting a new long-term productivity standard for the removal of dust, powders, solids, liquids and thick slurries.
AllVac machines have just one engine, reducing fuel consumption emissions, noise and maintenance. A superior filtration design effectively cleans air before it reaches the heavy-duty blower, capable of creating maximum vacuum at 28" Hg and maximum airflow at 5760 CFM.
Single engine operation reduces fuel consumption emissions, noise and maintenance
Engine and blower tachometer
Emergency engine stop switch
Fuel consumption meter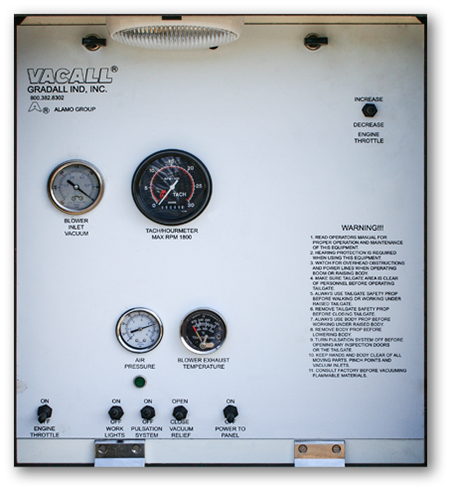 Positive displacement vacuum system creates maximum vacuum at 28" Hg
Maximum air flow of 5760 CFM
Transfer case drive with heavy duty construction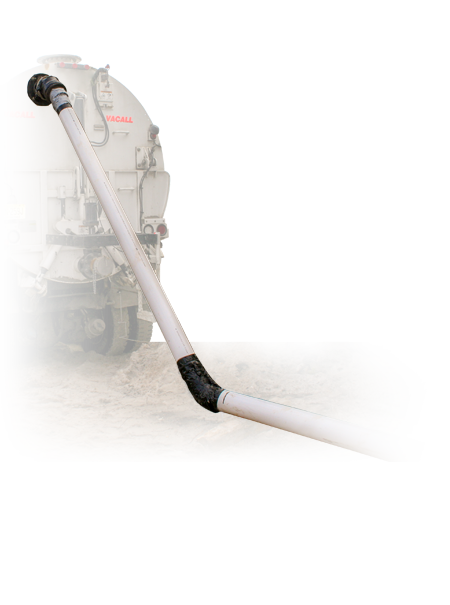 True single-mode filtration via twin cyclone pre-filters, ensuring wet and fine dry materials are removed before reaching the bag house
Universal snap-ring filter bags maximize the volume of available clean airflow around each filter and make it easier for material to be blasted off effectively
Air cannon filter cleaning system allows bag pulsation to operate without interruption and resets after every cycle
High-capacity debris tank with 18 yard3 capacity
Built with 91" diameter rolled steel plate
Debris, body, bag house and dump chute are integrated for complete removal of all debris when dumping
Fail safe tailgate designed for one-man operation
Smooth, leak-free tailgate movement with simple opening/closing/locking system using one hydraulic cylinder
Tailgate system features sealed wiring, tail lights, optional ladder and platform
40° dump angle can be augmented with optional vibrator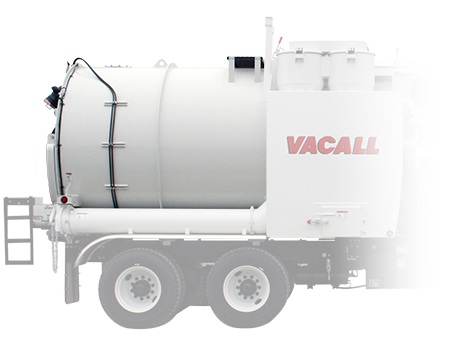 DOWNLOAD SPECIFICATIONS & LITERATURE
(PDF)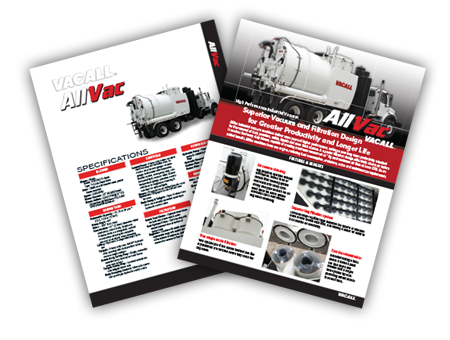 GREEN THAT WORKS.
The Vacall "Green That Works" collection of standard and optional advantages can help you save money, increase operating efficiency and protect the environment. All while continuing to deliver industry-leading vacuum and jetting forces.