Vacall AllJetVac Combo Sewer Cleaners Deliver Superior Power With Just One Engine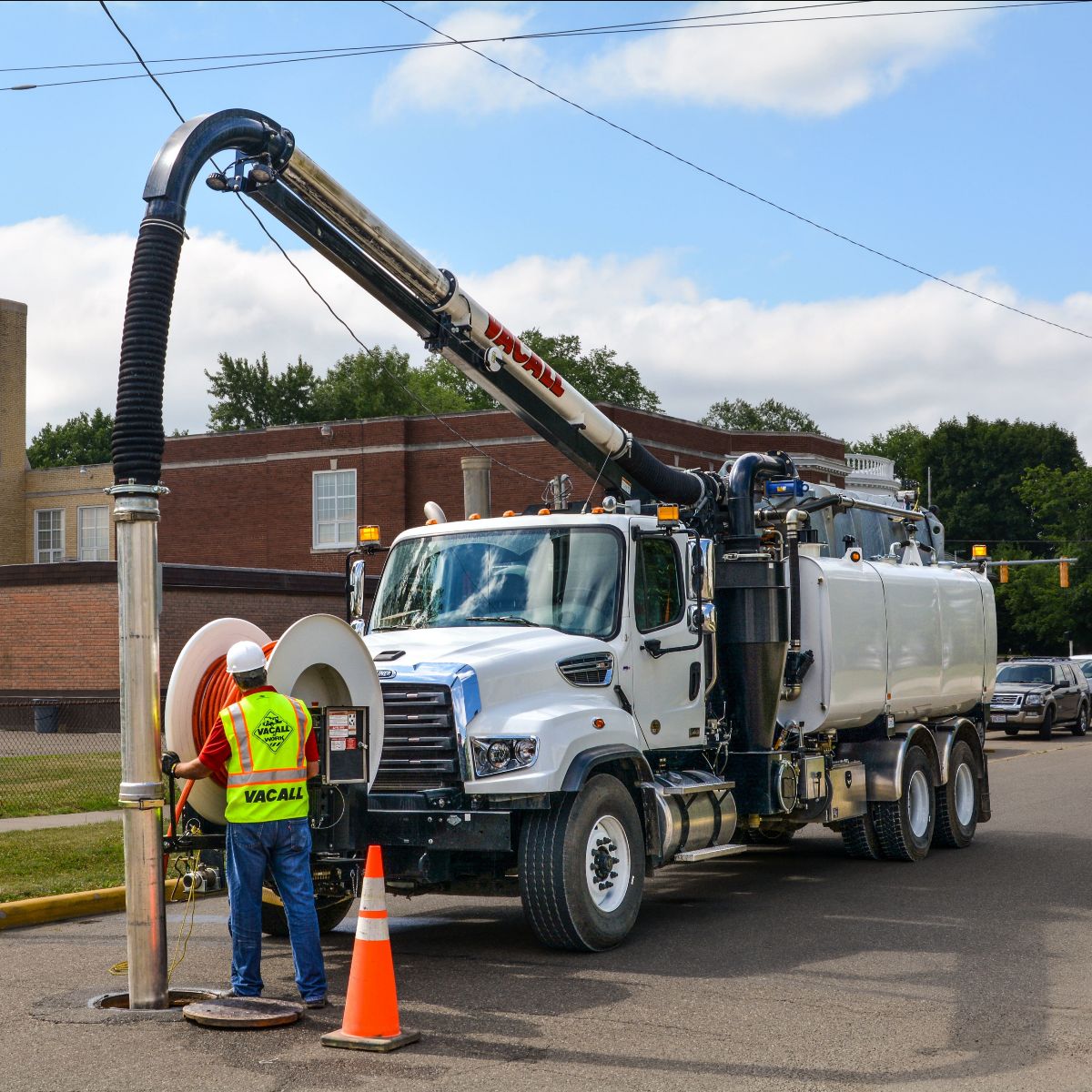 Vacall AllJetVac P Series combination sewer cleaners use a positive displacement blower system to create superior, reliable jetting and vacuum forces while efficiently opening and maintaining critical lines.

Reflecting the Vacall "Green that Works" design philosophy, AllJetVac models have a blower system that is powered by the chassis engine, unlike other sewer cleaners that require two engines. The Vacall design reduces fuel consumption, slashes service time and eliminates extra harmful emissions while holding down the overall cost of the machine.

For added efficiency, the AllSmartFlow™ CAN bus control system is standard, allowing operators to manage vacuum forces as well as water flow, using only the proper quantity of water and thereby reducing unnecessary refill trips.

Vacall sustainability advantages include standard aluminum water tanks and optional galvanized debris tanks - both with lifetime warranties. P Series models have a front-mounted, pivoting hose reel and an 8-foot, 6-inch extending boom with 180° rotation.

Also available are R Series models with a rear-mounted hose and reel system, accommodating some operators' preference to move the reel away from the heat and noise of the engine. A Recycler option for P Series machines filters and recycles water used for jetting, reducing both consumption of processed water and time spent for refills.

For greater productivity when dumping debris into roll-off containers, a high-dump option raises the tank 16 inches above ground level and tilts it while shifting the tank back 21 inches, avoiding spillage.

To further customize the models for specific applications and preferences, contractors and municipalities can choose decant valves, cold water recirculation system, backup hose reel hydraulics, and multiple blower and water pump choices, including a proprietary 85 pgm/2000psi water pump with 30-minute run-dry guarantee. Debris tank capacities are offered in 6-, 8-, 10- and 12-cubic yards. Water tank capacities include 1,000, 1,200 and 1,500 gallons.

Vacall products, wholly owned by the Alamo Group, are designed, built and supported by Gradall Industries, Inc., with processes that meet ISO 9001 standards. Gradall is known worldwide for productive, versatile equipment for governments and contractors. To learn more about Vacall AllJetVac models, call 800-382-8302 or visit www.vacall.com.



Alamo Group, Inc.: For over 40 years, Alamo Group has been a world leader in the design, manufacture, distribution, and service of high-quality equipment for right-of-way maintenance and agriculture. Alamo products include tractor and truck mounted mowing and other vegetation maintenance equipment, excavators, street sweepers, vacuum trucks, snow removal equipment, pothole patchers, agricultural attachments, and related aftermarket parts and services. Alamo currently produces and assembles products in 16 principal facilities worldwide, sold through Alamo Group's marketing organizations and Alamo's extensive independent worldwide dealer networks under various trademarks and trade names. These include Alamo Industrial, Tiger, Schwarze, Gradall, Vacall, Nite-Hawk, Henke Manufacturing, Schulte, Rhino, M & W, SMC, Herschel, Valu-Bilt, Bomford, Spearhead, McConnel, Twose, SMA, Forges Gorce, Faucheux, Rousseau, Rivard, and others. Alamo Group went public in 1993 and since 1995 has been listed on the New York Stock Exchange as ALG. Visit our website at www.alamo-group.com
RETURN TO NEWS INDEX
GREEN THAT WORKS.
The Vacall "Green That Works" collection of standard and optional advantages can help you save money, increase operating efficiency and protect the environment. All while continuing to deliver industry-leading vacuum and jetting forces.