Vacall Industries' AllVac Vacuum Truck Designed With Superior Vacuum and Filtration System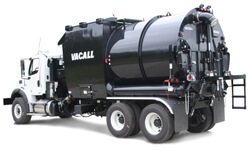 Vacall Industries' AllVac is a high-performance, industrial vacuum machine with a superior vacuum and filtration design for greater productivity and longer life.

The AllVac sets a long-term productivity standard for the removal of various debris, using a filtration design with twin cyclones that ensure wet, dry and fine materials are separated to create clean air.

It operates with a single-engine that controls the chassis and vacuum system—saving in costs and resulting in less fuel consumption, less noise and fewer emissions and maintenance requirements.

Some other benefits of the AllVac are:

• Air cannon cleaning system that operates continually and resets after every cycle

• Universal filter bags maximize volume of air flow

• Hinged twin-cyclone top door for access to duct work for easy decontamination

• Fail safe tailgate design opens, closes and locks with one control

• Control panel features a multi-pin connector to join the control panel with circuit breakers to the electrical harness

• Exclusive poured-in-gasket seals for toughness and longevity

• Oversized dump chutes allow materials to flow freely

• One-man safety prop allows engagement of the body prop by one person

AllVacs are ideal for industrial cleanup jobs at sewer treatment plants, oil refineries, grain elevators & silos, cement and chemical plants, shipyards and docks, airport runways, foundries, power generating stations, mining, furnaces, tanks, dust collectors and steel & aluminum plants.

Learn more about AllVac. Or call 800-382-8302. Find your authorized distributor here.

All Vacall machines are designed and manufactured in the U.S. at Gradall Industries' facilities in New Philadelphia, Ohio.

Vacall products, wholly owned by the Alamo Group, are designed, built and supported by Gradall Industries, Inc., with processes that meet ISO 9001-2008 standards. Gradall is known worldwide for productive, versatile equipment for governments and contractors.

Gradall Industries, Inc., may be contacted at 330-339-2211, or by mail to 406 Mill Ave. SW, New Philadelphia, OH 44663. Online, visit www.gradall.com.


Alamo Group, Inc.: For over 40 years, Alamo Group has been a world leader in the design, manufacture, distribution, and service of high-quality equipment for right-of-way maintenance and agriculture. Alamo products include tractor and truck mounted mowing and other vegetation maintenance equipment, excavators, street sweepers, vacuum trucks, snow removal equipment, pothole patchers, agricultural attachments, and related aftermarket parts and services. Alamo currently produces and assembles products in 16 principal facilities worldwide, sold through Alamo Group's marketing organizations and Alamo's extensive independent worldwide dealer networks under various trademarks and trade names. These include Alamo Industrial, Tiger, Schwarze, Gradall, Vacall, Nite-Hawk, Henke Manufacturing, Schulte, Rhino, M & W, SMC, Herschel, Valu-Bilt, Bomford, Spearhead, McConnel, Twose, SMA, Forges Gorce, Faucheux, Rousseau, Rivard, and others. Alamo Group went public in 1993 and since 1995 has been listed on the New York Stock Exchange as ALG. Visit our website at www.alamo-group.com

RETURN TO NEWS INDEX
GREEN THAT WORKS.
The Vacall "Green That Works" collection of standard and optional advantages can help you save money, increase operating efficiency and protect the environment. All while continuing to deliver industry-leading vacuum and jetting forces.