Designed for Frigid Weather, Vacall Hydro Excavators Have Step-in Compartment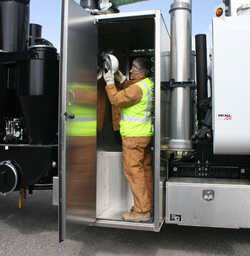 With the approach of winter weather, Vacall offers a new step-in compartment on its AllExcavate hydro excavators to provide operators with warmth and protection from inclement weather.

This feature, along with industry-leading vacuum and jetting forces, provides operator comfort while working on hydro excavation projects where conventional excavation is not a reasonable option.

The standard heated compartment is roomy, with enough space for an operator to change out of wet and muddy boots and clothing. The compartment also has floor drainage, racks to hang dry clothing and another rack to store the high-pressure hand gun and extensions. Even larger compartments with extra room are among the AllExcavate options.

Vacall hydro excavator models also have other features to maintain productivity when temperatures drop below freezing. Along with new LED lighting, the cold weather package includes extra insulation, heated cabinets for the hose reel and water pumps, and boilers that can heat water for more effective hydro excavation in frozen ground.

The Vacall AllExcavate, designed and manufactured by Gradall Industries, Inc., is ideal for excavating soil, rocks and clay around utility lines and foundations. Simultaneously, the AllExcavate uses high-pressure jetting action up to 24.5 gpm with up to 3,000 psi to loosen material. Then, it has the industry's strongest vacuum forces (up to 27" HG and 5,800 CFM) to remove the material and water slurry into a debris tank.

The highly productive process disturbs less terrain than conventional excavation while it exposes underground water and sewer lines, creates piling holes and slot trenches, and cleans frac tanks and other machinery on oil and gas exploration sites.

The multi-stage vacuum filtration system has a simplified design to reduce maintenance, extend performance and increase working life. As material is deposited into the debris body, air continues to move through a dual cyclone separator where more material particles and moisture are removed. The filtered air then passes through the blower, silencer and the exhaust.

AllExcavate models are available with three different vacuum boom tube and hose designs to accommodate customer preferences:

• A heavy-duty full-length rubber hose that is both durable and flexible with a gum rubber lining that runs from the turret mounted on the debris tank to the pickup point.

• Another steel tube-in-tube boom and intake connects to an identical rubber hose elbow that leads to the pickup point.

• The original steel tube-in-tube design also is available with a steel elbow boom and intake tube – the industry standard for strength and durability.

AllExcavate models also benefit from the Vacall "Green That Works" package that includes a variety of no-extra-cost advantages that can save fuel, build efficiency and extend the working life of the hydro excavator. The package includes AllSmartFlow™ intelligent controls, an innovative CAN bus control system located inside a protective cabinet, allowing operators to efficiently make more precise adjustments in boom movement.

A programmable color LCD display provides detailed information about engine performance, water flow, water pressure and vacuum functions. A fully proportional pendant, either wired or using wireless capability, provides for productive control away from the chassis while providing the operator with a clear view of the work area.

The "Green That Works" package also includes single-engine operation, reducing fuel consumption and release of harmful emissions as well as routine maintenance.

To further extend the life of the Vacall machines, AllExcavate models have lifetime warranties on standard water and optional debris tanks. Oval in shape with cylindrical sides, debris tanks are extra strong to handle the rigors of debris deposit and dumping. Water tanks, fabricated with high quality aluminum for extra strength, are mounted above rear fenders, reducing the possibility of damage from highway debris, rocks and stones.

For efficient debris deposit into on-site roll-offs, a high dump capability is available for AllExcavate models. This hydraulic option raises the debris tank as much as 76 inches above ground level and shifts it back 21 inches for dumping over the edge and into containers.

In addition to hydro excavators, Vacall products include sewer maintenance, sweeper, catch basin cleanout and industrial vacuum models. All Vacall models are designed, built and supported by Gradall Industries, Inc., to ISO 9001 standards, with a worldwide reputation for exceptional machine versatility, performance and hydraulic functionality. Gradall Industries, Inc., is wholly owned by the Alamo Group.

Learn more about AllExcavate. Or call 800-382-8302. Find your authorized distributor here.

All Vacall machines are designed and manufactured in the U.S. at Gradall Industries' facilities in New Philadelphia, Ohio.

Vacall products, wholly owned by the Alamo Group, are designed, built and supported by Gradall Industries, Inc., with processes that meet ISO 9001-2008 standards. Gradall is known worldwide for productive, versatile equipment for governments and contractors.

Gradall Industries, Inc., may be contacted at 330-339-2211, or by mail to 406 Mill Ave. SW, New Philadelphia, OH 44663. Online, visit www.gradall.com.


Alamo Group, Inc.: For over 40 years, Alamo Group has been a world leader in the design, manufacture, distribution, and service of high-quality equipment for right-of-way maintenance and agriculture. Alamo products include tractor and truck mounted mowing and other vegetation maintenance equipment, excavators, street sweepers, vacuum trucks, snow removal equipment, pothole patchers, agricultural attachments, and related aftermarket parts and services. Alamo currently produces and assembles products in 16 principal facilities worldwide, sold through Alamo Group's marketing organizations and Alamo's extensive independent worldwide dealer networks under various trademarks and trade names. These include Alamo Industrial, Tiger, Schwarze, Gradall, Vacall, Nite-Hawk, Henke Manufacturing, Schulte, Rhino, M & W, SMC, Herschel, Valu-Bilt, Bomford, Spearhead, McConnel, Twose, SMA, Forges Gorce, Faucheux, Rousseau, Rivard, and others. Alamo Group went public in 1993 and since 1995 has been listed on the New York Stock Exchange as ALG. Visit our website at www.alamo-group.com

RETURN TO NEWS INDEX
GREEN THAT WORKS.
The Vacall "Green That Works" collection of standard and optional advantages can help you save money, increase operating efficiency and protect the environment. All while continuing to deliver industry-leading vacuum and jetting forces.