Versatile Vacall AllSweep Models Deliver Industry's Greatest Maximum Airflow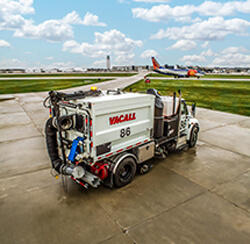 Vacall's AllSweep models produce the industry's greatest air flow capacity, according to an independent test comparing all high-performance vacuum sweepers used to clean up runways, parking lots, event venues, streets and even millings on street resurfacing projects.

Testing showed AllSweep's centrifugal fan is capable of producing a maximum air flow of 31,000 CFM, thanks to a unique design by Gradall Industries.

"We are confident that our exclusive collection of productivity features, along with superior vacuum force capabilities, makes the AllSweep the top-of-the-line sweeper choice for both governments and contractors," said Bill Petrole, vice president of Vacall products for Gradall Industries.

Among the AllSweep's other advantages is the industry's widest sweep path – actually wider than the width of the chassis – so it can make shorter work of bigger jobs. Either single or dual sweep systems are available, as well as full-width nozzles and gutter brooms to collect litter, stones, asphalt millings and debris.

Another operator efficiency advantage is a position memory feature to raise and then restore nozzle height when encountering curbs, speed bumps and other obstacles.

AllSweep's single-engine design is part of the "Green That Works" collection of features in every Vacall machine, increasing productivity while preserving the environment. AllSweep models effectively reduce both fuel consumption and the release of harmful emissions while delivering greater operating efficiency and overall cost-savings when compared with competitive two-engine sweepers.

When in use, a new hydrostatic drive system controls chassis travel speed while maintaining a specific RPM level to deliver consistent hydraulic power, water flow, vacuum forces and other cleanup functions – a revolutionary concept to assure excellent performance for multi-function equipment using a single engine.

A color LCD display screen clearly displays machine performance through AllSweep's AllSmartFlow CAN bus smart control system, which is standard - not an option. The control system allows for more precise water flow and vacuum adjustments and is available with a fully proportional pendant, either wired or wireless, to make productive control away from the chassis possible.

The rugged debris tank hopper, which is strengthened with reinforced steel to withstand the abuse daily tasks may provide, is available in various capacities. Designed to lead the industry with optimum product sustainability, all tanks have a durable powder coat finish. Optional stainless-steel tanks have a lifetime warranty.

Additional features include: a water system with up to 600-gallon capacity which allows for longer runs and less time spent refilling; a new silencer to reduce noise during operation; and a hydraulic system with easily accessible, ground-level gauges and filters.

AllSweep models can be equipped with a catch basin cleaner hose, adding to the versatility of the machines. When not in use, the high-power vacuum hose, boom and tubes (available in various sizes) fold compactly against the tailgate, which opens, closes and locks hydraulically, speeding up the dumping process.

Learn more about AllSweep. Or call 800-382-8302. Find your authorized distributor here.

All Vacall machines are designed and manufactured in the U.S. at Gradall Industries' facilities in New Philadelphia, Ohio.

Vacall products, wholly owned by the Alamo Group, are designed, built and supported by Gradall Industries, Inc., with processes that meet ISO 9001-2008 standards. Gradall is known worldwide for productive, versatile equipment for governments and contractors.

Gradall Industries, Inc., may be contacted at 330-339-2211, or by mail to 406 Mill Ave. SW, New Philadelphia, OH 44663. Online, visit www.gradall.com.



Alamo Group, Inc.: For over 40 years, Alamo Group has been a world leader in the design, manufacture, distribution, and service of high-quality equipment for right-of-way maintenance and agriculture. Alamo products include tractor and truck mounted mowing and other vegetation maintenance equipment, excavators, street sweepers, vacuum trucks, snow removal equipment, pothole patchers, agricultural attachments, and related aftermarket parts and services. Alamo currently produces and assembles products in 16 principal facilities worldwide, sold through Alamo Group's marketing organizations and Alamo's extensive independent worldwide dealer networks under various trademarks and trade names. These include Alamo Industrial, Tiger, Schwarze, Gradall, Vacall, Nite-Hawk, Henke Manufacturing, Schulte, Rhino, M & W, SMC, Herschel, Valu-Bilt, Bomford, Spearhead, McConnel, Twose, SMA, Forges Gorce, Faucheux, Rousseau, Rivard, and others. Alamo Group went public in 1993 and since 1995 has been listed on the New York Stock Exchange as ALG. Visit our website at www.alamo-group.com

RETURN TO NEWS INDEX
GREEN THAT WORKS.
The Vacall "Green That Works" collection of standard and optional advantages can help you save money, increase operating efficiency and protect the environment. All while continuing to deliver industry-leading vacuum and jetting forces.