Vacall Introduces Truck-Mounted AllJet Model, Cost Effective Solution for Effective Sewer Cleaning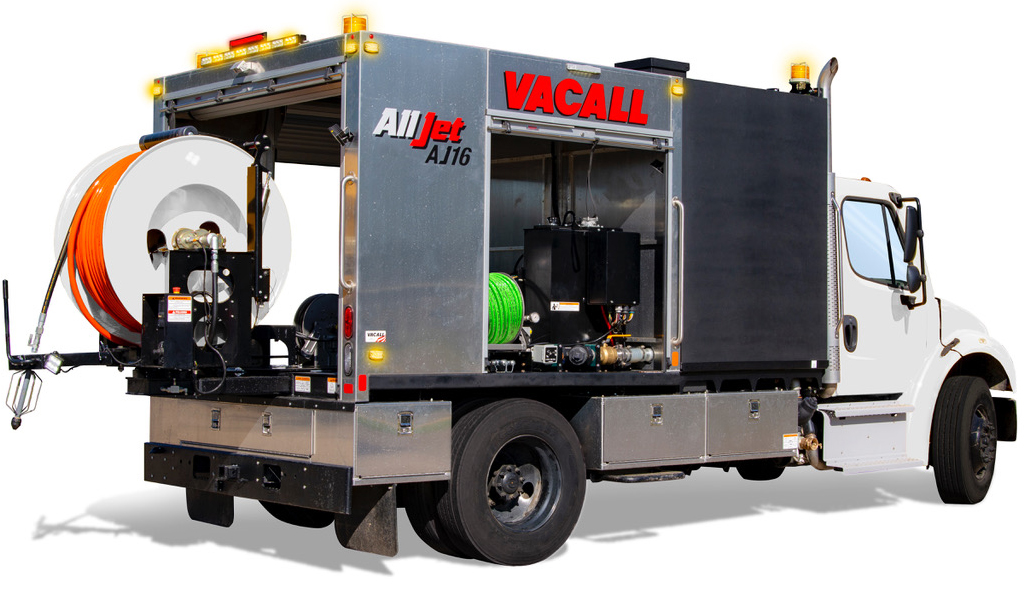 Vacall introduces the AllJet truck-mounted jetter, designed by Gradall Industries to provide budget-conscious municipalities and contractors with a highly efficient, easy-to-operate sewer-cleaning machine.

With standard Vacall "Green That Works" advantages, the AllJet uses a fuel-saving single-engine PTO design, a fully warranted 1,600-gallon UV resistant polyethylene water tank and Vacall's AllSmartFlow™ CAN bus control system. AllSmartFlow controls, protected inside a weather-resistant cabinet, help optimize operating efficiency with controls for water pump speed and pressure, hose reel adjustment, chassis engine and more.

The hydraulically powered triplex plunger water pump is capable of 87 gpm @ 2000 psi, to effectively jet blockages in sewer lines and routinely maintain flow, with other power options available. The hose reel telescopes out 54 inches from a retracted position and swivels 200 degrees to properly direct the 600-foot, one-inch diameter jetting hose.

The water tank is constructed with UV resistant black polypropylene, internally baffled with a filling system that runs through the tank, eliminating external plumbing.

Operator-friendly features include four locking aluminum tool storage cabinets, a rear-view camera, three roll-up doors, a wash-down system and a number of popular options including LED lighting packages, an extendable rear canopy and a heating and insulation package inside the all-aluminum rear compartment.

Designed for simplified operation to speed up emergency response to sewer line blockages, the AllJet chassis engine also operates the powerful jetting function, reducing fuel costs, emissions and maintenance associated with two-engine sewer cleaners.

Vacall products are engineered, built and supported by Gradall Industries, Inc., with processes that meet ISO 9001 standards. Gradall is known worldwide for productive, versatile equipment for governments and contractors.
For information and a demo, contact Vacall at 800-382-8302 or visit www.vacall.com.

Learn more about AllJet. Or call 800-382-8302. Find your authorized distributor here.

All Vacall machines are designed and manufactured in the U.S. at Gradall Industries' facilities in New Philadelphia, Ohio.

Vacall products, wholly owned by the Alamo Group, are designed, built and supported by Gradall Industries, Inc., with processes that meet ISO 9001-2008 standards. Gradall is known worldwide for productive, versatile equipment for governments and contractors.

Gradall Industries, Inc., may be contacted at 330-339-2211, or by mail to 406 Mill Ave. SW, New Philadelphia, OH 44663. Online, visit www.gradall.com.



Alamo Group, Inc.: For over 40 years, Alamo Group has been a world leader in the design, manufacture, distribution, and service of high-quality equipment for right-of-way maintenance and agriculture. Alamo products include tractor and truck mounted mowing and other vegetation maintenance equipment, excavators, street sweepers, vacuum trucks, snow removal equipment, pothole patchers, agricultural attachments, and related aftermarket parts and services. Alamo currently produces and assembles products in 16 principal facilities worldwide, sold through Alamo Group's marketing organizations and Alamo's extensive independent worldwide dealer networks under various trademarks and trade names. These include Alamo Industrial, Tiger, Schwarze, Gradall, Vacall, Nite-Hawk, Henke Manufacturing, Schulte, Rhino, M & W, SMC, Herschel, Valu-Bilt, Bomford, Spearhead, McConnel, Twose, SMA, Forges Gorce, Faucheux, Rousseau, Rivard, and others. Alamo Group went public in 1993 and since 1995 has been listed on the New York Stock Exchange as ALG. Visit our website at www.alamo-group.com

RETURN TO NEWS INDEX
GREEN THAT WORKS.
The Vacall "Green That Works" collection of standard and optional advantages can help you save money, increase operating efficiency and protect the environment. All while continuing to deliver industry-leading vacuum and jetting forces.